expired Mac Coltellerie Knives From $14.95 + $9.90 Postage - Adreno Spearfishing Supplies!
20
We're discounting all Mac Coltellerie knives with prices starting from $14.95 + $9.90 postage.
Mac Knives are made in Italy with state of the art equipment, unique moulds and quality presses. A very durable knife from a company that has been around for almost half a century and is known for its quality hunting and diving knives.
We've got their filleting range of knives starting at $14.95 which is more than 60% off their RRP!
Mac Coltellerie "D305 C" Small Fillet Knife
Mac Coltellerie "D300 C" Large Fillet Knife
Mac Coltellerie "D305" Large Skinner Knife
All the other knives in the range are also on special until the 14th of April.
Also be sure to check out our clearance section for even more great specials on a wide variety of spearfishing and dive gear!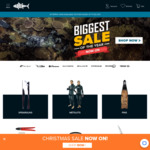 Related Store: spearfishing.com.au