expired Aquapro 3000 Lph Dirty Water Pump, Suit Aquaponics, Ponds etc - M.r.r.p: $210 - SPECIAL: $139.90

20
Aquapro AP3000DW Dirty Water Pump - Suitable for Aquaponics, Ponds, Waterfalls etc.
Manufacturers rrp: $210
Bunnings price: $175
OUR SPECIAL: $139.90… LIMITED STOCK AT THIS PRICE!
Aquapro Filterless Pumps are ideal for situations where water is polluted or solids (koi waste/dead leaves) are present. With 6mm solids handling capacity, these pumps will operate continuously with minimal maintenance (no sponges to clean). Use for filtration systems and waterfalls.
Model: AP3000DW
Max Flow: 3000 Lph
Max Head: 2.50m
Watts: 35w
Cable: 10m
In-store pick up available at our Belmont, Perth store.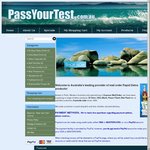 Related Store: PassYourTest.com.au