expired Telstra Mobile Internet 1GB for $2
430
Just landed onto whirlpool forum. seems to be a very good offer.
Telstra currently give 1GB data as an intro offer if you buy a Pre-paid Modem. Which is fine if you need a modem, but the 1GB offer also applies if you activate a new wireless simcard.
Telstra don't actually advertise that you can get wireless broadband with a sim-only plan, but its easily done. A $2 simcard is sold at shops like 7-11, Post Offices, Woolworths and other retail outlets, but NOT at Telstra shops.
So, get a $2 sim. Activate it as a broadband sim by calling 1258880 – note this must be done on the phone – the broadband sim can not be activated online.
Once its activated it won't have any credit so will not work at first, but within 48 hours the credit will be applied and you'll have 1GB for 1 month, all for $2
You could add credit if you wished so you can start using it straight away, and currently there is a double your credit offer with telstra, but its not necessary to do this, the 1GB will apply and you can have cheap internet for the holidays. The offer supposedly expires on December 31, and the credit lasts for 30 days.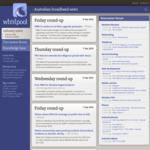 Related Store: whirlpool.net.au