$5 Per Month for 1 Movie Ticket Per Month, $7 for 2 Tickets Per Month @ Sinemia
Looks like they've just launched in Australia but not much info about it yet. Currently supported cinemas are severely lacking in all major cities at the moment, no idea if that's just because they haven't added more yet. Does anyone have any more info?
Edit: I bit the bullet and signed up. I'm hoping that it would be easy to cancel if they don't add more cinemas given that their whole motto is "Any cinema, any time".
Edit 2: There are a lot more participating cinemas in the app compared to those on the site. Almost all the major ones from what I can see, more info in the comments.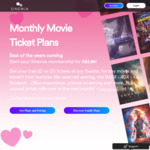 Related Store: Sinemia