expired Free NRMA Club Care Membership for 12 Months (NSW and ACT only)
150
Clubcare
Got a flier which says,
This voucher entitles you to 12 months NRMA Club care, absolutely free. It includes all NRMA benefits EXCEPT road side assistance. So you'll enjoy
Countless everyday savings australia-wide by showing your NRMA card
Free maps and discounted guides
Free 12-month subscription to Open Road magazine
Discounted accommodation, car rental and family attractions.
There is much more, see mynrma.com.au/benefits Feel free to photocopy this voucher and give it to a friend.
Hurry, you could win $2500 fuel card if you accept this offer before 30 June 2008
To redeem:
Call us on 1800 469 588 (Mon-Fri 9am to 5pm), or
SMS the words Club care, your full name, address and date of birth (in that order) to 0400456762
I think it is a good offer as my friend who has roadside assistance got discounts at the motels in Melbourne and said he got good deal on 2nd hand car purchase by NRMA card. so I am applying via sms.
Did not have scanner, so typed every words from the voucher.
Savings worth 77.50$ - Joining fee 55$, annual fee 22.50$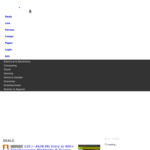 Related Store: Uploaded Files