expired VIP Paintball Passes for up to 10 People Just $50 at Sites across Australia
05
For just $50 you get VIP passes for up to 10 people at any on the Ministry of Paintball sites.
What that means is you'll get all the gear to make you look and feel the part; mask, coveralls, hood and battle-pack. Everyone gets a semi automatic gun that fires up to 7 rounds per second. You'll also get lunch to keep the energy up and the action flowing (Available at most locations)!
If you organise the event the you get 200 balls to fire at your enemies, plus 100 additional free paintballs based on every 10 extra people the group organiser brings.
As an added bonus, if you book it in before the 4th of July the organiser will get 1 FREE entry to a comedy club worth $25.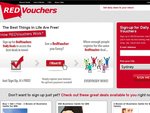 Related Store: REDVouchers