expired Free 200ml Can of Coke with Your NAME on It. Now Til End of Dec at Westfields
1160
Spotted this in Bondi Junction this last weekend, turns out Coke is giving out free 200ml cans with your name printed on it. You just line up and write the name you want on the form. Each Westfield is running this at different periods, so check the dates.
Some names like "Sam" apparently are not allowed due to (copyright? lol) reasons.
1st post, don't need to go easy. I'll learn.
EDIT: If you can't find the Westfield Locations on the facebook page, look for the "CREATE A CUSTOM CAN" tab and click it on the top.
Also not sure if every Westfield is listed, but the list is quite comprehensive. Check it for your area.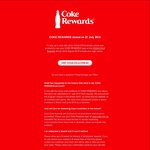 Related Store: Coke Rewards
or
to Join The Conversation