expired Wusthof Silverpoint II 10-Piece Knife Set with Block $88.83 Delivered
501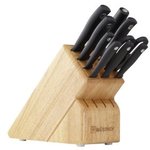 Affiliate
I have seen them as cheap as $150 Delivered from other places, but this is without doubt the cheapest i can find. I have spent 2 full days researching different knives for my kitchen (yes i'm that bored). After much deliberation i finally settled on these "cheaper" Wusthof Silverpoint II knives. I was also looking at the Wusthof Grand Prix II & Victorinox (also briefly considered Mundial & Henckels). I have much information to share with people who are unfamiliar with these knives and the pros & cons of forged vs stamped blades which i have learned over these past two days. If you have any questions let me know.
I was very tempted to get my hands on the "Wusthof Grand Prix II" knives available here: http://www.ozbargain.com.au/node/60878 ….which i think is a great deal by the way! But the price was a little out of reach for me.
I also considered getting 3 Victorinox knives which would have set me back about $60, see here: http://www.ozbargain.com.au/node/61458 instead i think this "Wusthof Silverpoint II" middle of the road purchase was the best plan for me being that the "brand quality" & steel hardness is better than the Victorinox and as a bonus i get extra knives (which admittedly won't get used much lol).
You will immediately see a lot of negative reviews about these knives all over the internet and from the amazon page that i have linked to above, however you will find that these reviews are from people who expected the same "weight" and heavy feel of the "Wusthof Classic" knives which are of course forged. For most people these knives will be more than adequate and some will even appreciate the lighter feel more than the heavier forged knives.
The steel used in these knives is exactly the same of that which is found in the forged Wusthof range of knives including the ever popular "Wusthof Classic" knives. The hardness of the steel is also exactly the same @ 58 HRC.
All Wusthof knives are forged with the exception of "Wusthof Silverpoint II" & "Wusthof Gourmet". Both the Silverpoint & Gourmet are identical the only exception being the type of handle.
Here are some useful links which explain more about what i have written above:
http://www.youtube.com/watch?v=1HDamVvlfu8&feature=related
http://www.metrokitchen.com/wusthof-knife-comparison-guide
http://www.foodieforums.com/vbulletin/showthread.php?9626-Su...
http://www.yourcutleryhelper.com/cutlery-guide/132-forged-kn...
These are CHEAP! You get 7 knives (3 paring), a steel, scissors & nice block.
My Order Total: AUD 106.97, since then there has been a price drop and now you can pick them up for $88.83. Although expect the price to be a little different for you as the Aussie dollar fluctuates.
Product Features:
10-piece set includes 8-inch chef, 8-inch bread, 7-inch santoku, 4-1/2-inch utility, 3-inch paring, 3-inch clip-point paring, and 2-3/4-inch peeling knives; sharpening steel; kitchen shears; hardwood storage block.

Expertly crafted from high-carbon no-stain steel; laser cut instead of stamped for higher precision.

Compound-tapered blade laser tested for sharpness and correct cutting angle; tapers from bolster to tip for strength and flexibility.

Single-riveted, synthetic texture molded handle for a good grip (full-tang handle for all blades longer than 12cm).

Dishwasher safe, though hand washing recommended; backed by lifetime warranty; made in Germany.

Related Store: Amazon US