Click Frenzy Mayhem 2021 officially begins 7pm (AEDT) Tuesday, May 18 2021
---
Deals
As always expect some deals to be posted prior to 7pm. The event runs for 53 hours (ending Thursday, May 20 2021, 1159pm).
Follow all the deals, discussion and view participating stores via the OzBargain Click Frenzy 2021 Sales & Promotions page. The Click Frenzy sales page can also be accessed from the 'Pages' menu at the top of the website for easy access, closer to the date.
Please add 'Click Frenzy' tag to your deal post and remember to click subscribe on your favourite stores to get an email and/or web notification if any deal is posted for them.
---
Frenzy Bucks
Promo text:
It's back! Be one of the first 1000 subscribers to spend $200 or more on Click Frenzy deals and you could score yourself $50 back. Terms & Conditions.
---
Competition
Tag a friend and comment on this post for the chance to win a Nintendo Switch for yourself and a friend! Terms & Conditions.
---
Competition 2 (14/5)
With only 5 days to go until Click Frenzy Mayhem gets underway, we're giving you the chance to nab yourself an epic Apple Bundle valued at $1,748 in celebration of our event!

All you have to do to enter is comment down below in 25 words or less, which Mayhem retailer you're looking forward to shopping with during the event and what item are you hoping to snap up from them and why? Make sure to check out our Brand Wall (located on our website - https://clickfrenzy.com.au/!) to see which retailers are taking part in our event!

Entries are open until 11:59pm (AEST) Thursday 20 May.
---
'Go Nuts'
The 'Go Nuts' 99% off deals are also being run as usual. You can see comments on last year's Click Frenzy Mayhem. They aren't for everyone, quite a few OzBargainer's got free products, but a quite a few also missed out and it can be time consuming! If you are interested in participating ensure you subscribe on the Click Frenzy website now. It's also a good idea to Login/Update your account, or signup if you don't already have one.
Promo text/images from Click Frenzy so far:
Yep, you read that correctly! There's going to be some incredible 99% off deals on offer during Click Frenzy Mayhem! We're talking $5 Garmin Smart Watches and $2 Smeg Kettles just to name a couple. Make sure you're a member for your chance to snag one of these bargains!
Here's a taste of two of the Go Nuts deals in store for this event!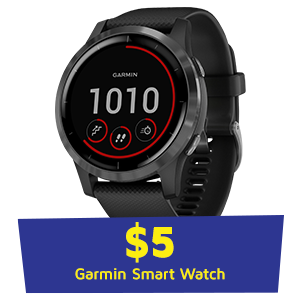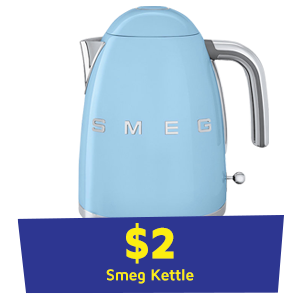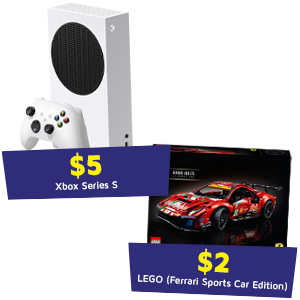 ---
Go Nuts Details/Updates:
We will list the upcoming questions when they become available throughout the event.
Tuesday 18th
8-9pm: GoPro Hero 9 - $8 Q
9-10pm: Nutribullet Blender - $2 Q
10-11pm: Samsung Galaxy Note 20 - $15 Q
11pm-12am: Apple Airpods Pro - $4 Q
Wednesday 19th
7am-8am: Garmin Smart Watch - $6 Q
9am-10am: Smeg Kettle - $2 Q
11am-12pm: Apple Macbook Air - $15 Q
12pm-1pm: LEGO Ferrari Sports Car - $4 Q
2pm-3pm: Apple TV 4k - $2 Q
4pm-5pm: Google Nest Hub Max - $4 Q
6pm-7pm: Samsung Galaxy S21 - $12 Q
8pm-9pm: Ultimate Ears Megaboom - $3 Q
9pm-10pm: Balenciaga Cash Card Holder $3 Q
10pm-11pm: Xbox Series S - $5 Q
11pm-12am: Apple iPad Pro 11" $12 Q
Thursday 20th
8am-9am: Homedics Massage Gun - $1 Q
9am-10am: Kitchen Aid Stand Mixer - $9 Q
11am-12pm: BenQ Portable Projector - $5 Q
1pm-2pm: Samsung Galaxy Buds - $1 Q
3pm-4pm: Apple Watch Series 6 - $6 Q
4pm-5pm: Portal+ - $4 Q
6pm-7pm: Playstation 5 Digital - $6 Q
7pm-8pm: Apple iPhone 12 - $13 Q
9pm-10pm: Nintendo Switch - $4Q
10pm-11pm: Arlo Wireless Security - $3Q
11pm-12am : Sony Bravia TV 65" - $20 (Finish) Q