expired Heat Sensitive ON/ OFF Switch Coffee Mug/ Cup, AU $8.44+Free Shipping, 15% off -TinyDeal.com
70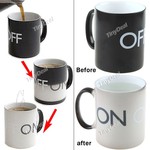 Affiliate
3o761KpD99
Coffee is lonely without cups, I am lonely without you!
Hot is on, cold is off.
Do not believe it? You try it: http://www.youtube.com/watch?v=aDKlih9p19s
Material: High-Grade Porcelain
Color: Black and White as shown in the picture
Height: 91cm/ 3.45 inch
Diameter:
——Outer: 77 mm/ 3.05 inch
——Inner: 70 mm/ 2.55 inch
Net Weight: 258 g/ 9.1 oz
Don't miss our hot deals up to 60% Off: http://www.tinydeal.com/special-weekend-sales-pxpulp-si-116....
Hooray for Mother's Day with great chance to win the grand prize, the new iPad. In the daily sweepstakes, 10 lucky winners will be drawn every day, starting from April 20th to May 15th. All customers can participate and have opportunities to win after placing an order above $33 on TinyDeal.com from March 27th, 2012.
http://www.tinydeal.com/index.php?main_page=order_prize&px=p...
Related Store: TinyDeal