expired 4 Pack Bobble Gift Set 550ml $14.98 Clearance @ Officeworks
520
Considering the price for one of these is $15.40, This price is a bargain.
For those who don't now what they are, they're drink bottles which filter the water you drink.
There is no link for a 4 pack online, there was only 1 left in the Frankston officeworks (excluding mine) but the staff seemed pretty interested once they realised how cheap they were.
Here is a link for just 1: http://www.officeworks.com.au/retail/products/Catering-and-C...
Hope you guys can find some more!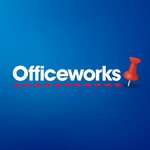 Related Store: Officeworks