expired DIGITOR 10x 50 Magnification Binoculars $10 @ DSE
1210
DIGITOR 10 X 50 Magnification Binoculars $10 @ DSE….Click and Collect Available.
Get a closer view of the action with these compact and multi coated lenses. These fit easily into your bag to take with you when attending a sporting event or when studying nature. They offer 10x Magnification, multicoated lens and fold down rubber eye cups.
Boxed Content
Binoculars, Case and Carry Strap
DIGITOR 10 x 25 Binoculars also available for $10 delivered. (delivery only no click and collect)
http://dicksmith.com.au/product/L8207/digitor-10-x-25-binocu...
Have a good night all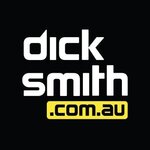 Related Store: Dick Smith / Kogan