out of stock iPhone 7 32GB ($943.20) 128GB ($1039.20), 7 Plus 32GB ($1119.20) 128GB ($1199.20) Delivered @ SydneyTec eBay (AU STOCK)
1100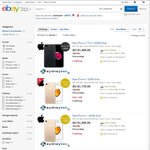 Affiliate
CSUNNY20
Long time lurker, first time poster. Please take it easy on me.
iPhone 7 32GB (Gold only) $943.20 SOLD OUT
iPhone 7 128GB (Gold only) $1039.20 SOLD OUT
iPhone 7 Plus 32GB (Silver, Gold, Black, Rose Gold) $1119.20
iPhone 7 Plus 128GB (Jet Black, Silver, Black, Gold) $1199.20 SOLD OUT
Noticed some good prices on some iPhones yesterday so I thought I might share. Contacted them and they said its AU Stock with 24 months warranty and they'll fix the listing to show that. Not all colours available.
Original 20% off at Selected Stores on eBay Deal Posts: CSITE20 & CSUNNY20
Related Store: Sydneytec
DisabledUser204390 on 12/01/2017 - 13:44

unco

on 12/01/2017 - 13:56
or
to Join The Conversation