expired 20% off 28 Stores (Dell, Allphones, Futu, Ted's, Videopro, amaysim + More) @ eBay
2760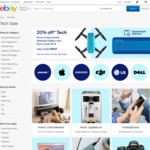 Affiliate
nocure
on 12/03/2018 - 23:12
www.ebay.com.au
(19228 clicks)
Last edited 13/03/2018 - 10:30 by 1 other user
PRINT
20% off 28 Selected Stores.
Click the Related Tab to see all PRINT deals.
To search the sale, click 'go to deal' and then scroll down to the blue 'search the sale' button. Enter a search term or simply click the button to see all results.
Participating stores:
Allphones Online
amaysim
buymobileau
Camerastore Australia
Dell Australia
eglobal digital cameras Australia
Futu_Online
hardtofind
Instyle Hi Fi & The Interior Store
JW Computers
KG Electronic
Luvyourphone
My Phonez
NO Frills
OLCDirect
Oz Electronics Inc
PC Byte
Ryda
Shopping Express Outlet
Shopping Square
Shopping Square Australia
Sidekick Mobile AU
Sydneytec
Ted's Cameras
Telstat Communications
Treasure PC
Vaya
Videopro Australia
The total discount is capped at $1000 per transaction. Limit 3 transactions per person during the Offer Period. Multiple items may be purchased in one transaction (up to a maximum of 10 items per transaction).