expired Some Logitech Gear - 100% Cashback Via Online Redemption - Starts 1 Feb 2011
4040
Some Logitech Mice, Keyboards, Webcams, Headsets and Cooling Pads are able to claim 100% cashback from Feb 1
see the website here
http://www.logitechcashback.com.au
still not a bad deal - given that after cashback, you essentially get the product for free
The stickers are on ALL the products at Dick Smith Arndale - and on the sticker it says, "Purchase me and receive 100% cashback". The upload is a photo of the sticker itself. I got excited as I thought I could pick up a logitech steering wheel with the cash back, but upon upon further investigation, I can see that only a limited number of products are included in this deal.
Only applies to these old models but 5 per household is not bad.
M100 wired mouse
M215 wireless mouse
K200 keyboard
C200/C210 web cam
Clearchat style headset
MK250/MK260 wireless combo
N100/N120 cooling pad
(Thanks POWERevolution)
---
mod more from PowerRevolution (Thanks)
Valid between 01.02.11 & 28.02.11 OR until AUD$300,000 in online cash back funds are exhausted, whichever occurs 1st.
Receipt(s) must be received by mail within 14 calendar days of online claim.
Limit of 5 claims per household.
Aust residents only.
Business, education, hospitals, fundraisers & similar organisations, some lay-bys & internet purchases are ineligible.
Logitech Australia Computer Peripherals Pty Ltd (ABN 21 069 691 989) of L2, 608 Liverpool Rd, Sth Strathfield 2136. NSW Permit No.LTPS/10/12639; SA Permit No. T10/3093.
---
As at 30/01/2011 midnight, this deal has 2246 click throughs. Assuming others out there know about the deal, consider what happens if 3000 people have made purchases
$300,000 is available for the cashback. If there are just 3,000 customers, so far, who know about the deal, that's about $100 each.
So, just a heads up there is a chance you won't get a cashback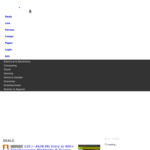 Related Store: Uploaded Files