expired 2x Packs of 4 AA Sanyo Eneloop Batteries at DSE $19.99 Plus Postage
780
foobar
on 19/05/2012 - 04:26
dse.com.au
(2408 clicks)
Last edited 22/05/2012 - 08:05
Cheap Eneloops at Dickies again!
No click and collect, online only.
Postage looks to be $4.95, maybe more if you're out in the sticks, enter postcode to find out before you order. I've tried a few random but apparently valid numbers and they all spat out $4.95.
Update: URL I had posted stopped working but it seems the product is still available, new URL added. It doesn't picture 2 packs but the description says it's for 2 packs.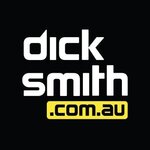 Related Store: Dick Smith / Kogan